On September 21, 2019, Azrael Franz proudly sponsored MADD Maryland's 10th Annual Walk like MADD, a walkathon at MADD Maryland Caton Waterfront Park in Baltimore.  Azrael Franz Partner, Keith Franz, joined MADD and supporters and victims in a walk to remember those lost and those affected from drunk and impaired driving.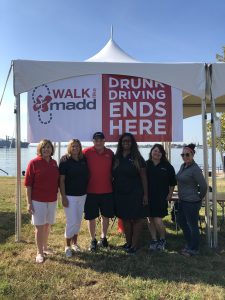 Keith pictured with MADD's Leadership:
Jan Withers, Former National President of MADD
Lisa Spicknall, Executive Director for MADD Maryland
Robin Stimson, Victim Services Specialist for MADD Maryland
Pam, Victim Services Specialist for MADD Maryland
Bryna Clark-Braverman, Program Specialist and Victim Services Specialist for MADD Maryland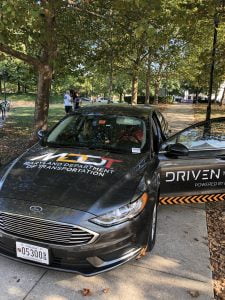 Driver Alcohol Detection System for Safety (DADSS) Vechicle:
This new technology that MADD and the US Department of Transportation have been working on for over 10 years is a breathalyzer that is always at work.  DADSS will test ambient breath (AKA no blowing into a tube) and will shut down a vehicle or not start if it detects alcohol on the breath of the driver.  This new technology is expected to become optional equipment on cars in the coming years. Much like seat-belts, which initially were optional, DADSS is expected to be standard equipment on all cars in time.