Paul J. Schwab, III | Partner
Paul Schwab advises clients on legal matters related to estate and trust planning and administration, business formation, agreements, business transactions, real estate contracts, leases, loans, purchases and sales. He has lectured on preserving family wealth, business planning, real estate law and opening and administering estates in wrongful death litigation. Paul is active in the Maryland and Baltimore County Bar Associations.
Paul was elected President of the Board of Trustees of the Baltimore County Public Library in 2016. He served as President until January 2018, when he was named Treasurer. The Baltimore County Public Library has 19 branches in Baltimore County and provides vital educational and other services individuals, businesses and schools throughout the Baltimore area.
Paul is also Legal Counsel for and a Member of the Executive Committee of the Children's Cancer Foundation, Inc. (CCF)  This Maryland nonprofit has awarded over $38 million to local hospitals and researchers that are treating or seeking cures for childhood cancers. As Legal Counsel, Paul has drafted corporate policies and charter amendments, reviewed venue, artist and other agreements and worked with estates and trusts that have left gifts to CCF. The attorneys at Azrael Franz have served as legal counsel for CCF since its founding in 1983.
Paul previously was President of the Towson Chamber of Commerce, Inc. and currently is a member of its Board of Directors and the Board's Executive Committee. He also provides legal guidance and services as requested by the Chamber's officers. These services have included preparing and negotiating purchase and loan documents for the Chamber's 2006 acquisition of its building and reviewing bank documents for its 2016 refinancing of the acquisition loan. Paul is also a past chair of the Towson Family YMCA's Board of Managers.
Paul was born in Philadelphia, Pennsylvania. He received his B.A. from Lawrence University magna cum laude in 1979 where he was elected to Phi Beta Kappa. He was awarded his Juris Doctorate (J.D.) from Duke University School of Law in 1982.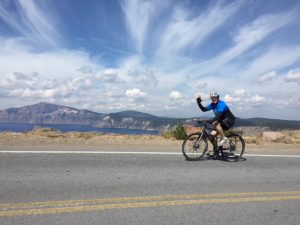 Paul was admitted to the Maryland Bar in 1982, and to the U.S. District Court and the District of Maryland in 1983.
Paul currently lives in Lutherville, Maryland with his wife, Sally.  They have two adult children.  When Paul is not working or volunteering, he enjoys reading history books, hiking, biking and golfing. In September 2018, Paul biked around Oregon's Crater Lake National Park (pictured) with his daughter.
Publications:
Presentations:
MSBA 2012 Solo Day
BCBA Negligence Committee Seminar (2/7/2012)
BCBA Wrongful Death: Estates and Trust Committee Seminar (1/31/2012)
Boards and Committees:
Former President of the Board of Trustees of the Baltimore County Public Library (2016-2018), where he currently serves as Treasurer
Legal Counsel for and a Member of the Executive Committee and Board of Directors of the Children's Cancer Foundation, Inc.
Former President of the Towson Chamber of Commerce, Inc., where he currently is a member of its Board of Directors and the Board's Executive Committee
Former chair of the Towson Family YMCA's Board of Managers