State's Attorney Advocates for 790 "Tainted" Baltimore Convictions to be Thrown Out
On Friday, October 4, State's Attorney Marilyn Mosby began asking Baltimore Courts to vacate nearly 800 criminal cases handled by 25 Baltimore City police officers.  In explaining her requests, Mosby explained that she found reason to distrust the 25 Baltimore City officers, which included the eight convicted officers involved in the Gun Trace Task Force scandal.  Mosby further stated that her office has no choice but to throw out the convictions because the integrity of the cases is compromised.
"When you have sworn police officers involved in egregious and long-standing criminal activity such as planting guns and drugs, stealing drugs and money, selling drugs, making illegal arrests, and bringing false charges, our legal and ethical obligation in the pursuit of justice leaves us no other recourse but to 'right the wrongs' of unjust convictions associated with corrupt police officers," Mosby wrote in an email.
Mosby released the names of additional officers that had not been previously disclosed by her office.  Three of named officers remain with the Baltimore Police Department: Robert Hankard, a suspended detective in central Baltimore; Kenneth Ivery, a sergeant in Southwest Baltimore; and Jason Giordano, a sergeant in the citywide robbery unit.
At least 10 of the named officers have resigned; one retired and one was fired. One other officer, Detective Sean Suiter, was shot to death nearly two years ago in West Baltimore.  The fatal shooting occurred the day before Suiter, a homicide detective, was scheduled to testify before a federal grand jury in a police corruption case involving fellow officers.
Included in the 25 officers is former Detective John Clewell, the lone member of the Gun Trace Task Force not charged with a crime.  Clewell has maintained he took no part in the task force's crimes.
At least seven other unnamed officers are involved.  Mosby declined to identify them, saying they remain under federal investigation.  The number of officers involved will continue to fluctuate as her office continues to investigate, Mosby said on Friday.
Maryland's New Law
Mosby partnered with a Prince George's County former prosecutor to back a state bill granting Mosby authority to vacate the old convictions.  Prior to this new law, Judges were denying such motions on the grounds that there was no legal basis for a prosecutor to make such a request.  In advocating for the new law, Mosby told lawmakers that this legal hurdle hindered efforts to right the wrongs of the Gun Trace Task Force.
The General Assembly passed the bill last session, and the new law took effect October 1, 2019.  Mosby's office filed motions in over 75 cases that first day.  Mosby's staff will file 200 cases a week, with judges holding daily hearings to consider vacate bad convictions.
Public defenders are praising Mosby's work.  "We are impressed with how swiftly they are taking advantage of the new law. Whatever we can do to support their efforts, we will," said Melissa Rothstein, spokeswoman for the Baltimore Public Defender.
Meanwhile, City Solicitor Andre Davis has expressed concern that the city will face an onslaught of lawsuits.  More than a dozen people have already sued, and dozens more have given notice of their intent to sue.  City officials are bracing for payouts that could cost tens of millions of dollars.
Azrael Franz Seeks Justice
In April 2010, 86-year-old Elbert Davis, was killed when a driver fleeing Baltimore police crashed into Mr. Davis' vehicle.  The pursuit began when members of the now disbanded Gun Trace Task Force illegally stopped Umar Burley under the false premise that he was conducting a drug transaction.  Burley fled the scene, and the officers illegally gave chase, which ended when Burley's vehicle crashed into Mr. Davis' vehicle, killing him and injuring his wife.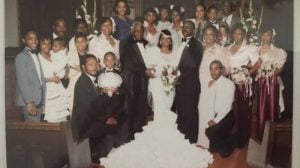 Seven years later, convicted Gun Trace Task Force Member, Wayne Jenkins, admitted in court that he planted heroin in Mr. Burley's vehicle after the crash in an attempt to justify the fatal collision.
Azrael Franz represents the six adult children of Elbert Davis who are now seeking justice.  The Davis Family filed an action in federal court maintaining that Elbert Davis (Pictured to the left of the bride) died as a direct result of Baltimore Police Officers' actions.  The complaint states that officers did not render aid or call for an ambulance, but instead worked to cover their tracks by planting 32 grams of heroin in the car they had illegally  chased.
Azrael Franz Partner, John R. Solter, Jr., stated to the Baltimore Sun that "while there are many victims of the corrupt police officers' actions, this is the one case [in which] an innocent man was killed."  Their grief, he said, has "turned to anger."
The attorneys at Azrael Franz are dedicated to victim advocacy and seeking to collect damages for the victims of crime.  If you or a loved one has been injured or harmed by negligence or criminal wrongdoing, contact the attorneys at Azrael Franz.