Maryland Department of Assessments and Taxation Warns of New Scam
Last month, we warned about the practice of deceptive practice concerning recorded deed notices, wherein companies send an official-looking letter to new Maryland homeowners requesting $95 in exchange for a copy of the homeowner's deed.  We advised that a copy of your deed is available online for free and that your county land records will make a copy of the deed for  a few dollars.
Azrael Franz Partner Paul Schwab recently learned of a similar practice in which newly-organized businesses are instructed to send an additional payment in order to obtain a Certificate of Status.  The Maryland Department of Assessments of Taxation ("SDAT") warning about this ongoing scam states that any third party solicitation from a company attempting to represent the 'Maryland Secretary of State' via mail or email should be fully vetted before submitting additional payment information."  You can view the SDAT's full warning below: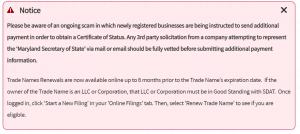 If we can be of assistance in organizing, modifying or selling your business, please contact the attorneys at Azrael Franz.