Teen Who Suffered Broken Neck in Amtrak Derailment Files Lawsuit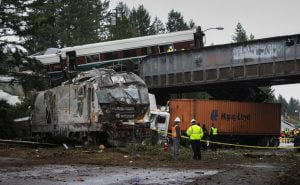 A Washington state teen who survived a 2017 Amtrak train derailment is suing Amtrak, Sound Transit, and the Washington State Department of Transportation (WSDOT).  Timmy Brodigan, who is now wheelchair-bound, is working every day to regain movement.  Brodigan's complaint maintains that Amtrak, Sound Transit, and WSDOT need to be held accountable.
The derailment happened near DuPont, Washington on Dec. 18, 2017.  The Amtrak train was on its first trip on a new route from Tacoma to Portland, when it plunged onto Interstate 5, killing three people and injuring dozens including Brodigan, who broke his neck in the crash.  The new route was supposed to shave 10 minutes off the trip.
In his lawsuit, Brodigan claims the transportation system was rushed into service before it was ready.
Azrael Franz has successfully litigated, tried and arbitrated cases involving mass transit disasters including train crashes, airplane crashes, trucking disasters, and commercial bus crashes.  Recently, Azrael Franz represented surviving victims of the fatal 2015 crash of Amtrak Train No. 188 in the United States District Court for the District of Pennsylvania and achieved arbitration awards averaging more than $924,000 and $798,000.
We aim to vigorously protect the legal rights of victims and their families to make certain that the responsible parties are held accountable for the damage they have caused.  If you have questions about a case involving serious personal injury or wrongful death, please contact Azrael Franz Partner Judson Lipowitz for a free case evaluation.  We're here to help.