Over 20 people hospitalized after explosion at Baltimore City BGE high-rise
The Baltimore City Fire Department (BCFD) has reported there was an explosion with a partial roof collapse in the Baltimore Gas and Electric (BGE) building at West Fayette and Liberty this morning, December 23rd, around 8:30 AM.  The explosion was loud and powerful enough to shake neighboring buildings.  BCFD officials said that as many as 23 victims were rescued from the building and at least 21 were taken to the hospital with injuries.  At least nine people are in critical condition.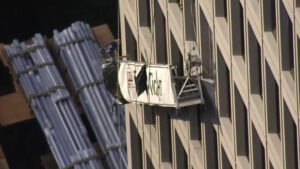 BCFD also reported that two construction workers who were trapped on a dangling scaffolding 11 stories up after the explosion had to be rescued.   Firefighters broke through windows and pulled the two workers to safety.
A statement from BGE indicates that the explosion was related to construction on the building's air handling and boiler system.  Thankfully, the building's gas was turned off due to the construction and the building was not full due to the coronavirus pandemic and upcoming holidays. Other buildings near the explosion were also evacuated as a precaution.
The fire is still under investigation by fire officials.
If you or a loved one was affected by the explosion in Baltimore, contact the fire loss attorneys at Azrael, Franz, Schwab, Lipowitz & Solter.
The attorneys at Azrael Franz understand that fire-related incidents can be devastating to families.  The fire loss and personal injury attorneys at Azrael Franz have decades of experience providing legal counsel to those whose loved ones have been affected by deadly fires. Our firm's delicate and personal approach allows us to provide impeccable service to family members in need of a strong, yet delicate advocate.
Azrael Franz is proud of the results it has achieved for its clients, yet we measure our success by more that just addressing our clients' financial concerns. We work tirelessly with families throughout the healing process. Our services extends beyond the completion of litigation, and we take pride in the relationships that are formed and maintained well beyond the conclusion of our legal efforts.
Azrael Franz has represented many burn survivors – including those touched by tragedy of the September 11, 2001 terrorist attacks. Our efforts also include devoting our firm to the establishment of the Michael D. Hendrix Burn Research Center at Johns Hopkins Hospital, which was initiated with the largest contribution in the history of the Maryland Regional Burn Center, and names for a client of the firm whose life was tragically cut short as a result of severe burns he sustained in an airline crash.
We also provide legal services for the Baltimore County Retired Fire Officers and Firefighters Association and to other firefighting organizations. The fire loss attorneys at Azrael Franz lecture frequently on fire safety and victims' rights. Our commitment to assisting those in need continues to be a guiding principle of the firm.
If you were affected by the explosion in Baltimore, we urge you to contact our attorneys. We can help. To learn more about your legal options after a serious injury, contact the victim advocates at Azrael Franz.