Former Baltimore County Hospital Employee Faces Several Sex Offense Charges
Baltimore County Police said a former MedStar Franklin Square hospital employee has been charged with a number of sex offenses, after a tip from the National Center for Missing and Exploited Children.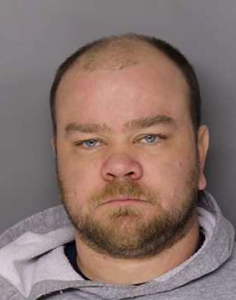 Baltimore County Police arrested Donald Joseph Benson Jr. (pictured), 40, of Nottingham, on Thursday, February 6, and charged him with a number of sex offenses, including the sexual abuse of a minor.  Benson became the subject of an investigation after police received a tip that he may be involved in the viewing of child pornography.
Officials said as a result of the investigation, police uncovered explicit images of a minor who was determined to be a patient at MedStar Franklin Square Medical Center at the time of the assault, where Benson was an employee.
MedStar Franklin Square Medical Center released a statement Monday afternoon: "The safety and care of our patients is paramount. We were appalled to learn that one of our associates is alleged to have abused a patient in our care. As soon as we heard, we terminated the associate's employment and have offered our full cooperation to law enforcement."
Police are asking anyone who may have additional information on this case or any other incidents that Benson may have been involved in to contact the Baltimore County Police Crimes Against Children Unit at 410-853-3650.
We're here to help.
If you have experienced sexual abuse or sexual assault, we can help.  People who have faced the unfortunate tragedy of sexual abuse may find triumph by coming forward, telling the authorities, and receiving help.  This courage is what drives the sexual abuse victims' attorneys at Azrael Franz to represent these individuals and aid them with their healing process.  We offer free, completely confidential initial consultations to help survivors of sexual abuse find healing, closure and justice through litigation.
Only through civil litigation can damages such as pain and suffering be compensated.  Please consider contacting Azrael Franz to see if filing a civil claim is appropriate for your case.  Filing a civil lawsuit can often help victims where the criminal justice system cannot.
For more information on how to proceed following a crime, please contact Azrael Franz.