Estate Planning Documents to Consider or Review during the Coronavirus Pandemic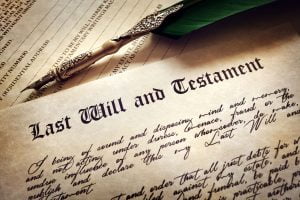 Amid the COVID-19 (coronavirus) pandemic, stress and anxiety is wreaking havoc.  From health and safety, to the economy, to the stock market and personal finances. For many, the current crisis is serving as a wake-up call to get their estate plans in order.
Now more than ever we need to focus on our well-being and that of our families.  As part of this process you should review your current estate planning documents to ensure that you at least have your basic documents in order and that these documents reflect your current wishes.  We want to remind our clients and friends of some important considerations during these uncertain times:
If you have an existing estate plan:
Review your existing documents – Make sure that you have copies (either paper or electronic) of your existing estate planning documents, and review them to confirm that they still reflect your wishes. If you cannot locate your documents, consider calling or emailing your estate planning attorney to obtain copies.
Identify any items that require attention sooner rather than later – As you review, take note of any major changes that may have occurred in your family since you last updated your estate plan. These might include child births, deaths, marriages, divorces, etc. And also consider whether the individuals that you previously appointed to serve as your agents are still appropriate.
Follow-up with your loved ones and advisors – Make sure that your loved ones know if you have appointed them to any role in your estate plan. This includes your personal representative (executor), trustee, guardian for your minor children, attorney-in-fact under power of attorney, and/or agent under your health care advance directive.
If you do not have an existing estate plan, here are important documents to consider:
Last Will and Testament – A will is a legally-binding statement directing who will receive your property at your death. If you do not have a will, the state will determine how your property is distributed. A will also appoints a legal representative to carry out your wishes. A will is especially important if you have minor children because it allows you to name a guardian for the children.
Power of Attorney – A power of attorney allows a person you appoint (your "attorney-in-fact") to act in your place for financial purposes if you ever become incapacitated. In that case, the person you choose will be able to step in and take care of your financial affairs. Having a power of attorney in place allows a trusted friend, family member or perhaps business associate to take money out of your bank account, pay your bills, and even make a court appearance for you.
Advance Health Care Directive – An advance health care directive is a document that explains how you want medical decisions to be made if you are unable to make these decisions for yourself. It allows your health care team and loved ones to know what kind of care you want, and who should make decisions for you when you cannot.
Legal services were deemed an essential service as part of Governor Hogan's stay-at-home order, which means we are still working and here for you during the coronavirus pandemic.  Contact one of Azrael Franz's estate planning attorneys, Jonathan Azrael, Paul Schwab, or Carley Wilbourne, today to set up a remote consultation regarding your estate plan.  We're here to help.