Dangerous Algae Linked to Multiple Dogs' Deaths Found in Maryland
A North Carolina resident is warning pet owners after her three dogs died hours following a swim in a pond filled with toxic algae last week.
Since then, another family has made headlines for the loss of its border collie who died after swimming in a Georgia lake from what their vet suspected was blue-algae poisoning. Additionally, in Austin, in early August, three dogs died because of the same neurotoxins and the city closed the lake where the dogs had been swimming.
The deaths are connected to a bl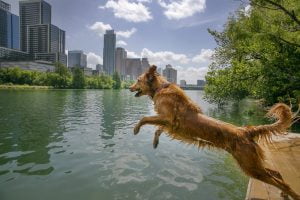 ue-green algae bloom and is leading to renewed focus on water quality across the country, including in Maryland, where the same type of algae has recently been found.
On July 3, Anne Arundel County officials warned of a harmful blue-green algae bloom in Lake Waterford in Pasadena. Shortly after, the county's health department urged residents to avoid direct water contact and keep pets away from the affected body of water.
Two weeks later, the state Department of Natural Resources found potentially harmful algae during a sample in the North East River near Charlestown in Cecil County.
Dangerous algae is a "major environmental problem" in all 50 states, and scientists believe they will continue to wreak havoc on U.S. waterways with the rising threat of climate change, according to the Environmental Protection Agency.  Toxic algae can affect the nervous system, liver and kidneys in humans and animals, though children and dogs are most susceptible because they tend to wade in shallow areas on the edge of ponds or lakes where the blooms are concentrated.
It can be especially dangerous for dogs, which drink the water or ingest the blooms by licking themselves.
Tips to Stay Safe:
Officials say if you come in contact with the algae, you should wash their body and clothes with clean, warm soapy water afterward.
See a doctor if skin irritation occurs.
Fish caught in affected waters should have fat, skin and organs removed, be rinsed and cooked thoroughly before eating.
Keep children and pets away from water that appear discolored or scummy.
Do not touching large accumulations of algae.