Azrael Franz is on Team CASA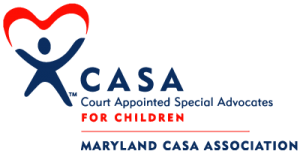 Azrael Franz is a proud supporter of the communities we have served for more than 70 years.  We take great pride in our commitment to organizations through community partnerships, sponsorships and direct participation.  This article is about Maryland CASA Association, an organization that Azrael Franz and its Partners have supported for almost ten (10) years.
Maryland CASA's Purpose and History
A Court Appointed Special Advocate, or CASA volunteer, is a trained and caring adult that represents and advocates for a child's best interest in the child protection system.  CASA volunteers get to know the child and gather information from persons in his or her daily life, including family members, foster parents, teachers, daycare providers, doctors, lawyers, social workers and others. They also spend a significant time with the child, gaining his or her trust.   Using this information, CASA volunteers report to the judge handling the child's case and advocate in the child's best interest until the child reaches a safe, permanent home.
The first CASA program in Maryland started in 1987.  Maryland CASA opened in 1998 and since then has helped start seven new CASA programs so that now the fifteen branches serve Baltimore City and nineteen of Maryland's twenty-three counties.  Maryland CASA provides training and technical assistance to local CASA programs, raises public awareness so that more of Maryland's abused and neglected children may be served and continues efforts to expand CASA's reach to the remaining four counties.
Azrael Franz's Support
Relationships can start in unique and diverse ways.  Azrael Franz Partner, Paul Schwab, knew Maryland CASA's State Director, Ed Kilcullen ("Ed"), from their involvement in the Towson Chamber of Commerce.  In 2010, when Paul learned of a young man wishing to fulfill a community service requirement while home from college, he contacted Ed.  A rewarding internship was arranged for the young man.  Ed subsequently asked Paul to help with the Team CASA water station at the 2011 Annual Baltimore Running Festival.
The following year and each year thereafter, Paul has supervised Team CASA's water station located at mile 19 of the festival.  Paul describes his working at the water station a long but rewarding and fun experience.
2019 Baltimore Running Festival
On Saturday, October 19, 2019, Team CASA, the official charity team of the Maryland CASA Association will be participating in the 19th Annual Baltimore Running Festival.  Team CASA's runners come from all walks of life – from serious athletes and marathoners to co-workers and families tackling their first race – but all are committed to supporting Maryland CASA in our efforts to reach more children who need our help.  Azrael Franz is once again sponsoring Team CASA and volunteering at the mile 19 water station with Team CASA.
In order to enter teams in the Baltimore Running Festival, charities are expected to staff a water station and distribute water and sports drinks to the runners.  Team CASA is also in need of additional water station volunteers.  The day consists of arriving at the water station before 7 AM on October 19th, setting up tables, filling cups, mixing sports drinks, and handing drinks to runners during the race.  Azrael Franz provides breakfast and lunch for CASA volunteers.  If you are interested, please contact Azrael Franz Partner Paul Schwab.
Please join Paul, Azrael Franz, and Team CASA at the 19th Annual Baltimore Running Festival.  The deadline for runner registration is October 2, 2019.  For more information on the Running Festival, go to https://goteamcasa.org/ or call (410) 828-6761.
If you are interested in becoming a CASA volunteer, click here.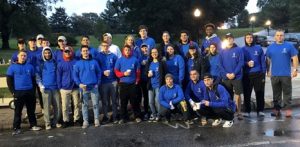 Pictured: Azrael Franz Partner Paul Schwab (in white) and Team CASA volunteering at the 2018 Baltimore Running Festival.