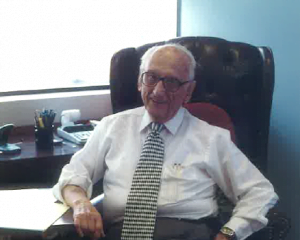 Edward Azrael | Founding Partner
Born in Philadelphia, Edward Azrael came to Baltimore as a boy and graduated from City College. He earned his law degree in 1929, a member of the second class at the University of Baltimore School of Law.  Mr. Azrael was admitted to the bar in 1930.
Mr. Azrael's legal career spanned more than 70 years and included service as a state senator and a member of the city zoning board.  His legal practice focused on real estate and zoning, estate planning and business law.
Mr. Azrael was a member of the state Senate from 1968 to 1970. He served on the Board of Municipal Zoning and Appeals of Baltimore City from 1947 to 1962, and was a member of the Democratic State Central Committee for the 4th District from 1944 to 1956.  Mr. Azrael was also a founding director of the Children's Cancer Fund, and the Edward and Harriet Azrael Scholarship Fund to help University of Baltimore law students.